Fairfax County's Locally Poured Field Guide
Drink Local. Be Happy.

Celebrate American Craft Beer Week (May 15-21) all month long – because beer is awesome! Use our field guide to find our breweries and check-in to get exclusive offers and free gifts for visiting.
Click here to see what's included!
Fairfax County's Locally Poured Field Guide
Mobile exclusive
Instantly delivered via text and email
No apps to download
Sip on the best of Fairfax
How this Pass Works

Step 1 - Get Your Pass
This mobile exclusive passport features a collection of curated breweries, wineries, and distilleries to explore.

Step 2 - Receive Text
Your passport will be instantly delivered to your phone via text and email and is ready to use immediately! There is no app to download. Your pass can be saved to your phone's home screen for easy one-tap access.

Step 3 - Redeem
When visiting a participating business, simply present your phone to the attendant or staff member to redeem available discounts.
Included Venues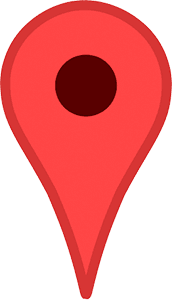 See locations on an interactive map.
Local Virginia Brewery in Herndon & Alexandria offering world-class beer that pushes innovation & creativity. Both taprooms offer 20+ draft options, beer to-go, & outdoor seating.
What's Included
Free Aslin Beer Company Sticker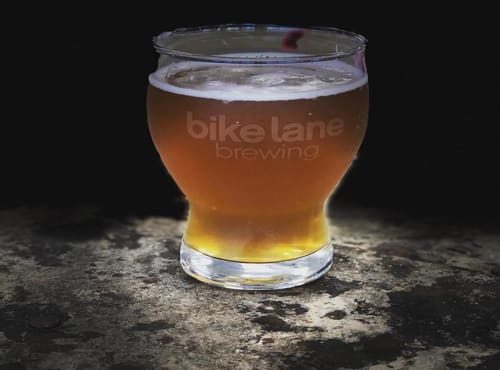 Our brewery cafe is located in The Bike Lane bike shop. We offer a variety of pastries, muffins, lemonade, and ice tea. We switch things up a bit to keep things fresh.
What's Included
Free Bike Lane Brewing Magnet
Locally owned, funded and operated by Sam Gray and Eric Barrett. The two owners grew up in Fairfax County and joined as a team to open a place in central Fairfax to give back some of the love given to them growing up.
Caboose Commons is Caboose Brewing Company's second location in Merrifield, VA. A full-service coffee house, brewery, restaurant all rolled into one.
Caboose Tavern is Caboose Brewing Company's flagship tucked away in the industrial section of in Vienna, VA. Located right off the W&OD trail, guests can walk, run, bike, skate, or even arrive by horse to enjoy a fresh beer.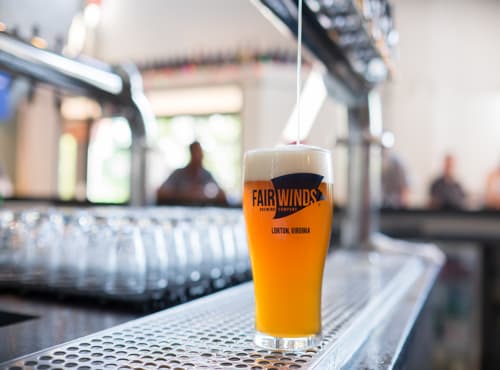 We built Fair Winds Brewing Company to provide fresh, local, flavorful craft beers to our neighbors and friends in Fairfax County and throughout Northern Virginia and the District of Columbia.
G34.3 Brewing Company is a small batch brewery in Lorton focused on innovation and quality, with a "concept" taproom that takes you one small step into outer space.
What's Included
Free G34.3 Brewing Company Sticker
Veteran owned, family run brewery in Chantilly VA offering 16 beers on tap as well as a delicious food menu, wine, and liquor. Perfect for family, friends, and company outings!
What's Included
Free Honor Brewing Company Branded Pint Glass
Debuted as top 30 breweries in the world in the first month of opening (untapped) Our beer is conceived vibrant and tastes juicy. Intimate taproom serving our creations in beautiful glassware on site, and crowlers to go.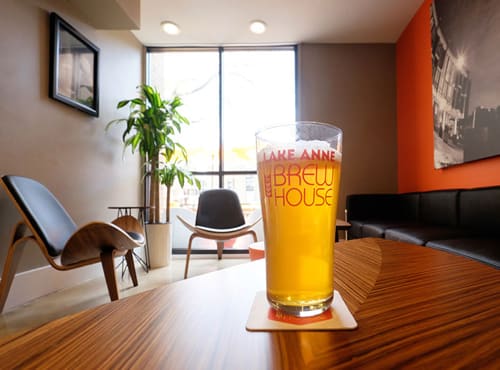 Lake Anne Brew House brews small-batch, handcrafted beer, and serves it up lakeside in our mid-century modern themed taproom, and on our large deck overlooking beautiful Lake Anne.
What's Included
10% Off All Merchandise
Free Lake Anne Brew House Sticker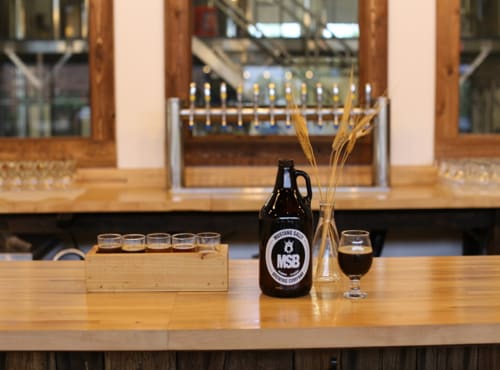 Mustang Sally Brewing Company
Mustang Sally Brewing Company (MSB) is a production craft brewery that includes over 14,000 square feet of total space and a 4,000 sq. ft. tasting room.
We feature a self-serve beer wall with 12 craft beers and hard seltzers on tap, all brewed at Ono Brewing. We have a tropical-themed tasting room, expansive outdoor tiki patio and on site food vendor, Odd BBQ, serving amazing food seven days a week.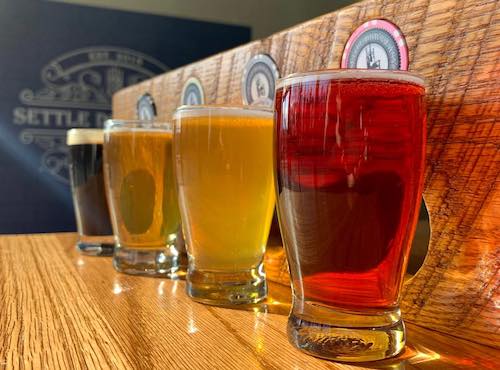 Settle Down Easy Brewing Co. - Falls Church
We are passionate about providing discriminating Craft Beer consumers with an approachable selection of high-quality specialty craft beers and seasonal varietals. Our grain to glass philosophy infuses every beer we create and we earnestly seek to share how that approach allows us to brew the best beer in the world. SDE brewery is the perfect social place to grab a cold beer with some great people, enjoy your favorite music, and of course – settle down easy.
Show more
What's Included
Free Settle Down Easy Brewing Co. Sticker
Settle Down Easy Brewing Co. - Oakton
Fairfax County's newest brewery location features a 4,000-square foot taproom and one-barrel brewhouse. The Fermented Pig has its first brick and mortar location inside the new brewery's tasting room. The taproom will pour wine, local ciders, Settle Down Easy beers, as well as beers on tap from other Fairfax County breweries.
What's Included
Settle Down Easy Brewing Co. Sticker