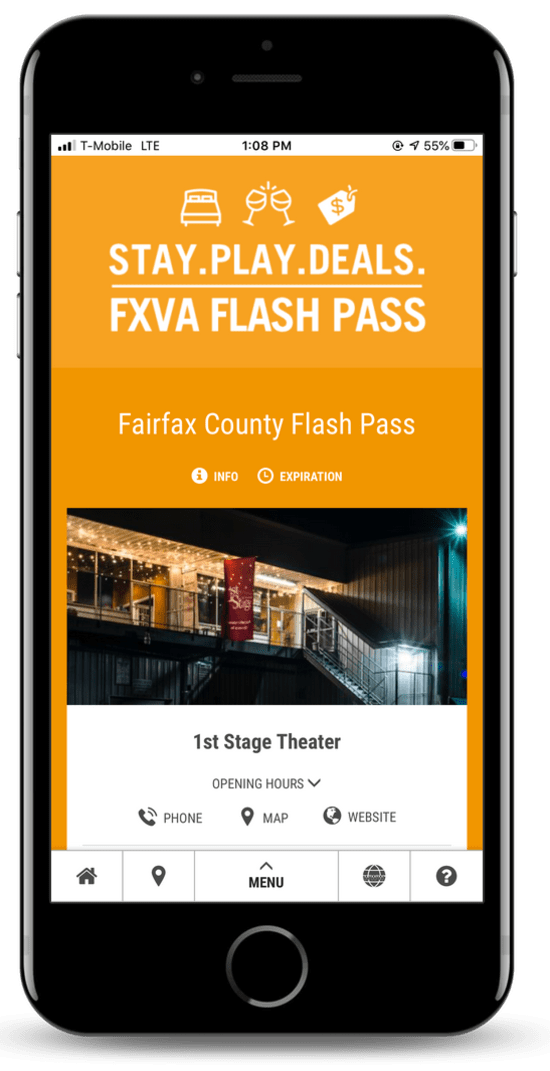 SAVE ON THE BEST OF FAIRFAX COUNTY
Sign up for FREE to find the best happy hours, specials and coupons at bars, restaurants, and attractions in Fairfax County!
During these unprecedented times, many attractions and events have been impacted, and in some cases, cancelled or closed. Visitors are strongly encouraged to call or check event and attraction websites to confirm operating status.

There's so much more to do in Fairfax County during your trip. Get easy access to the best happy hours, coupons, specials and more by signing up for FREE now. Instantly delivered to your phone with no apps to download. Maps, directions, hours of operation and more in the palm of your hands.

See what's included with the Fairfax Flash Pass
Save on the best of Fairfax County
Instantly delivered via text and email
Mobile exclusive, no apps to download
New deals added regularly
How this Pass Works

Step 1 - Get Your Pass
Visit Fairfax has curated savings for visitors to Fairfax County!

Step 2 - Receive Text
Your savings will be instantly delivered to your phone and email, and are ready to use immediately! There is no app to download. Easily save the savings pass to your phone's home screen for easy access.

Step 3 - Redeem
Our mobile savings pass will provide you with hundreds of dollars in savings, easy to find information, and things to do - all in the palm of your hands!